Someone out there might be asking, "How did this Calliope's Book thing get started, anyway?"
I'll tell you. Someone posted a picture of a cartoon cat — much like the one below — on an internet forum I frequent.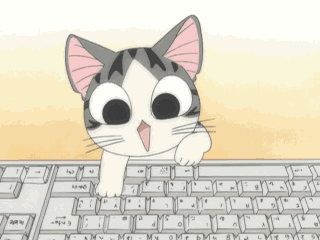 Random conversation ensued:
Idiotprincess: gaah! who let calliope use a computer???
me: That cat cannot be stopped. Check out the way she's tearing up the keyboard!
Idiotprincess: she has ambitions to write the Great Feline-American Novel. unfortunately most of her sentences look like this: ,./,.ettrpol;cbbpop[er,.,./,./rrel;l;bopopee,./,./bbxp,./,./ertrt
me: …AND she is fond of having her characters utter the words 'snur snur snur' to indicate their amusement. They are always amused!
Idiotprincess: yes, she is a creative genius. it's really unfortunate that she's such a bad typist. on the other hand, she can dictate her stories. after all that's where Neil Gaiman says 'Stardust' came from.

me: Didn't David Eggers refer to her work as 'indescribable' and 'confounding'? Those words are at least two syllables. Maybe three. That means quality. Oh! I just heard Neil Gaiman and Calliope are co-writing a new book about mechanical chipmunks which construct — and subsequently abandon — elaborate ambulatory tree houses deep in the heart of a globe-spanning forest. You know how crazy the rumor-mill can be, though…

Idiotprincess: TOTALLY crazy. it's neil stephenson, not neil gaiman! and i have no idea where the mechanical chipmunk thing came from, it's about flying cats. with mechanical wings.
There you go. All the ingredients of a good tale.
(Apologies in advance to Mr. Gaiman, Mr. Stephenson, and Mr. Eggers if they ever see this…)