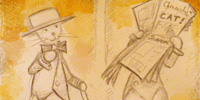 Lots to do in the coming weeks! From finishing my labors in the accursed attic to painting Christmas presents. To escape the mind-numbing dullness of some of these tasks and stave off madness for as long as possible, I've started listening to staggering quantities of podcasts and audiobooks. Let me recommend some to you! You will find them quite agreeable, I am certain!
This Week in Tech and MacBreak Weekly are two of my favorite technology podcasts. The pundits are often wrong, wrong, wrong, but they're also usually entertaining.
I don't have a lot of time to play games these days, but still really enjoy the Giant Bombcast and 1Up Yours. I also recommend the Retronauts and The Penny-Arcade podcasts. Episodes of the latter are especially rare, but always carry a payload of joy — much like Kinder Eggs or dinosaurs.
If you're looking for a lengthy and enjoyable audiobook, try Neil Stephenson's Anathem. If you've studied the Grecco-Roman era in any depth or have read Carl Sagan's Cosmos, you're sure to find the story amazing.
Have a productive (and restful) weekend, everyone!