Nov 17, '08 2:45 PM
For a brief, shining moment, we won the internets.
That's right. Catagraph.us is currently the first Google result for the term "ambulatory tree" — at least in these parts. Let me state unequivocally that ambulatory trees are also great.
Handshakes all around!
Nov 17, '08 2:50 AM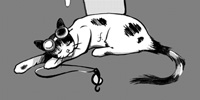 Awake out there? Take a sneak peek at some upcoming work! If you're confused, read about the mysterious origin of Calliope's Book!