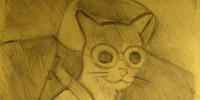 Here's a little portrait of Calliope with her wing pack.
Not as finished as I would prefer, but a friend and I spent nearly half the lunch hour debating zombie recipes. For what it's worth: pickled in vinegar and formaldehyde, then baked with lemon pepper seasoning.
That's the way to go, friends.