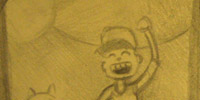 Today's image tests a concept in which I'm interested. Some may call it cleverness or calculated trickery. I look at it as the most elegant way to state my case.
Speaking of vignettes, let me share something I composed during a recent search for a missing boot!
Wasting no time, the tall man sprang atop a nearby table, overturning crockery and drawing frustrated looks from the seated guests.

"Hold!" he cried. "Do not eat! I fear… we have just consumed the scurvy!"

Yells and shouts of consternation rose from around the room. Attendees dropped their utensils and glared at them minutely — as if suddenly burned by the polished metal. A stout man with a great beard rose angrily to address the source of the ominous warning.

"The scurvy! Do you claim we are poisoned, sir?"

"Indeed," the tall man answered gravely, "we are surely now within its power."
Do you see what reading the books of Sir Arthur Conan Doyle will do to a man? Do you?