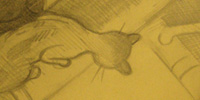 "She observed a cube shimmering in the air below."
I've recently gone attic mining. Even if you have an attic — or know where one may be found — there's a good chance you've never ventured into its depths. Rightly so, I say, for there are unseen dangers. I speak, of course, of the awful old books which migrate into the attic when they have finished poisoning the bookshelves in the living room. If there is interest, I shall endeavor to provide examples tomorrow.
There are some small compensations. As it happens, mysterious cases also migrate to attics. Please note the clever camouflage adopted by these fine examples!