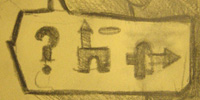 "As he turned to flee, the whistling of valves emitted by the floating machine broke to a melody of long bass notes…"
After exploring Google AdWords more extensively in the last few weeks, I've realized that you have to be quite careful about choosing keywords which match the content of the website being advertised.
In my first advertising experiments, I tried to generate interest in viewers by employing curious phrases (nothing ever as brilliant as platypus dirigible, though!). These first ads attracted clicks, but since the visitors weren't looking for Castle Mountain or Lighthouse + Airship when they googled for information about cat health, none of them came back after the initial visit.
In retrospect, that is an obvious outcome. However, my focus at the time was to entice anyone to visit the website, rather than enticing people who love daily sketches of cats and adventure to visit the website. Recent efforts were more finely tuned, but writing copy and choosing keywords that reach just the right people is a difficult, subtle thing — an art in its own right and one that demands a lot of attention.
I wonder who usually handles such things for artists? Art promoters? Artist's agents? There must be someone out there.