Jan 8, '09 12:50 PM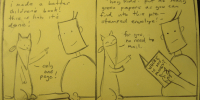 Jan 8, '09 7:15 AM

"The Noises Rest" from lonelysandwich on Vimeo.
"This is going to be hard for a lot of people to understand, because they're cretins… but, at the heart of the sound-making process is… not making sound."
Jan 8, '09 4:07 AM
On January 6, 2009, Ziff-Davis finalized the sale of the 1Up network and associated publications to Hearst publishing. At least 40 employees of the 1Up network were RIFed — including many of the people responsible for producing great gaming podcasts and video productions like 1Up Yours, Retronauts, Games For Windows, and the 1Up Show: Nick Suttner, Andrew "Skip" Pfister, Matt Chandronait, Philip Kollar, Shane Bettenhausen, Ryan Scott, Ryan O'Donnell, James "Milkman" Mielke, Jay Frechette, and Cesar Quintero.
Personally, I will really miss these productions. I often disagreed with their participants — even to the point of shouting at the iPod 😉 — but they provided a welcome and necessary distraction from a lot of difficult times in the last few years. To paraphrase TommyT at Neogaf: These were the best friends we never met. They made something new of gaming journalism.
Here's hoping the diaspora leads to new and better things for all involved.
Enterprising individuals on the Neogaf forums have already assembled a directory of links to 1Up alumni and started archiving the old podcasts for download via BitTorrent.
For anyone now seeking superlative replacements for the 1Up podcasts: I recommend The Giant Bombcast, Idle Thumbs, and Gamers With Jobs.