Here's an example of how I go from conceptual sketch to final painting. This piece is titled Our Library and was done as a Christmas present for a friend with two cats. The cats are named Casper and Peekaboo, are great buddies, and — strangely enough — are almost completely identical.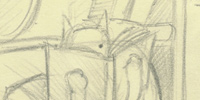 Illustrating the unique qualities and similarities of these two cats is always a challenge. For this piece, I first decided on an appealing setting — a warm, comfortable sitting room — then divided the space and modified the poses, palette, and compositional elements to individuate the subjects. (If you compare the sketch to the final piece, you'll see that an awful lot of detail work was done after the concept stage; this is perfectly fine if you're confident in your ability to fill empty space with interesting things.)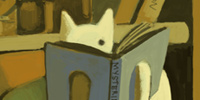 Note all the artifacts in the background! Like most cats, these two are often occupied with adventure. One wonders what stories are associated with such a diverse collection.