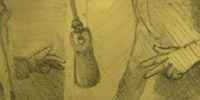 Reflections, soundings.
We all possess our fears and failings — the looming shadow stuff which we perceive in dream as the monster, the giant, the demon. When this reflection is recognized and persists, a sounding must inevitably begin and the depths plumbed. Again.
When did we begin to feel this way? Why?
The labyrinth is composed of the dead ends of personal failure, traps of circumstance. In between, there is the way which we must embrace, must unwind.