Feb 16, '09 12:51 PM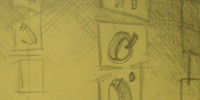 Feb 16, '09 9:00 AM
Lars Pind's life coaching blog might be of interest to anyone who is consistently trying to improve their work and quality of life. Thus far, he's produced over 40 free videos discussing a wide range of life topics — including productivity and inspiration.
These serve as the foundation for his recent, excellent video seminar for Peepcode Screencasts entitled Productivity for Programmers. That title is somewhat misleading in my opinion — the tips within the video seminar could be applied to literally any creative pursuit. Highly recommended.
Feb 16, '09 8:00 AM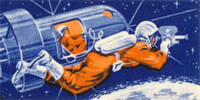 Commanded by Pavel Belyayev and piloted by Alexei Leonov, Voskhod 2 was launched into orbit on March 18, 1965. Alexei Leonov became the first man to walk in space at 08:34.51 UTC — 90 minutes into the mission. This first, tentative spacewalk was reportedly plagued with problems. For example, due to over-pressurization of his spacesuit and a bad boarding procedure, Leonov briefly became stuck in the airlock and had difficulty re-entering the Voskhod 2 spacecraft.