Mar 3, '09 1:30 PM
Speaking of voices… how about Neko Case?
Mar 3, '09 1:00 PM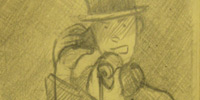 Yesterday, when I wrote "re-reading" Bellwether, I really meant "listening to Bellwether as narrated by Kate Reading" — for audiobooks are one of my favorite avenues of ingesting books anew.
Today, I was surprised to discover Kate Reading is a pseudonym used by actress Jennifer Mendenhall. She apparently grew up in England — which might explain her fantastically nuanced voice — and has narrated dozens of books over the last twenty years. Mind-boggling.
Back to the races, I guess.