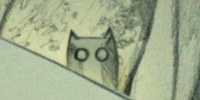 Spent a good portion of the weekend up in a hot attic, playing reverse-Tetris with several filing cabinets, a headboard, and at least one defunct baseboard heater.
Not recommended — unless there's a rumor of treasure, of course.
Speaking of treasure: the other day, I ran across a mention of Letterboxing. In this practice, participants provide clues and riddles that point the way to hidden waterproof caches containing a notebook and a stamp. If that sounds intriguing, you may find more details at Atlas Quest and Letterboxing North America.
Geocaching is a similar practice — differing only in the typical cache procedures and the requirement of a GPS device.
Both activities all but guarantee adventure — in addition to the development of certain important skills. For example, the proper use of dead drops.
Everyone should know how to use a dead drop.