Mar 20, '09 12:25 AM
Painting and sketching for a little while right now at http://www.ustream.tv/channel/catagraphus.
All done for tonight!
(Background audio may include Aimee Mann, Stars, Fleet Foxes, Regina Spektor, She & Him, Kate Bush, Andrew Bird, Alexi Murdoch, Loney Dear, and The Decemberists.)
Mar 18, '09 12:30 PM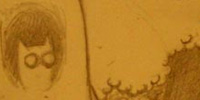 Mar 17, '09 1:00 PM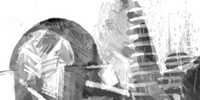 This past weekend, I went geocaching with my good friend Christy and Sam the Geodog. 😉
We found our first cache with some difficulty, but the next two went pretty smoothly as we worked out how to properly adjust the resolution of the GPS. The latter caches led us across surreal foggy landscapes populated by twisting bridges and rocky mountain outcrops.
Three caches in one day! Not bad for former muggles.
(If you have the time, I really recommend getting involved in the practice. Beyond discovering hidden treasures everywhere, it's a great opportunity to explore the outdoors and take photographs!)
Mar 16, '09 12:00 PM