Mar 9, '09 12:00 PM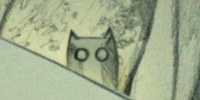 Spent a good portion of the weekend up in a hot attic, playing reverse-Tetris with several filing cabinets, a headboard, and at least one defunct baseboard heater.
Not recommended — unless there's a rumor of treasure, of course.
Speaking of treasure: the other day, I ran across a mention of Letterboxing. In this practice, participants provide clues and riddles that point the way to hidden waterproof caches containing a notebook and a stamp. If that sounds intriguing, you may find more details at Atlas Quest and Letterboxing North America.
Geocaching is a similar practice — differing only in the typical cache procedures and the requirement of a GPS device.
Both activities all but guarantee adventure — in addition to the development of certain important skills. For example, the proper use of dead drops.
Everyone should know how to use a dead drop.
Mar 5, '09 12:00 PM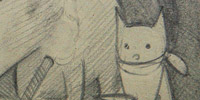 They threw a party — a party with snacks, drinks, smoke sticks, and gambling — and told none of us!
From left to right: Angus (drink tester and erstwhile leader), Lucky (lucky), Project Glowyrm (official snack laserer), The Mache Giraffe (taking meeting minutes), Outlaw Cat (treasurer).
(Had the idea for this piece a few weeks ago. It's nice to finally see it realized.)
Mar 4, '09 1:20 PM
Taking a little break from illustrating The Endless City.
Today, Amazon released an e-book reader for the iPhone and iPod Touch. It's free and seems to work pretty well.
Of course, I immediately purchased a copy of Vernor Vinge's Tatja Grimm's World
. In spite of the annoying and awful DRM applied to the e-book version, this collection of stories is one of my favorites — not only because of the setting, but because Tatja Grimm's World features one of Paul Lehr's best cover paintings.
Today's sketch is a response to that painting. Whenever I see those distant sea stacks, I imagine someone gazing outward atop them.
Update 2009-03-05: I've heard some reports that typeface selection is up to the publisher of each Kindle e-book — so there's some potential for disaster. The typeface used in TGW is pretty easy on the eyes. It looks like Century Schoolbook.
Mar 3, '09 1:30 PM
Speaking of voices… how about Neko Case?
Mar 3, '09 1:00 PM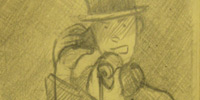 Yesterday, when I wrote "re-reading" Bellwether, I really meant "listening to Bellwether as narrated by Kate Reading" — for audiobooks are one of my favorite avenues of ingesting books anew.
Today, I was surprised to discover Kate Reading is a pseudonym used by actress Jennifer Mendenhall. She apparently grew up in England — which might explain her fantastically nuanced voice — and has narrated dozens of books over the last twenty years. Mind-boggling.
Back to the races, I guess.
Mar 2, '09 4:00 PM
This one goes out to the people watchers in the audience (via MetaFilter).
Mar 2, '09 1:25 PM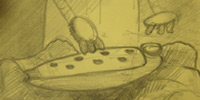 March is looking like another difficult month for yours truly. Can't say much more on the subject right now, but posting frequency and regularity may be slightly random for the duration. Your patience is appreciated.
Started reading another book by one of my favorite authors this week: Bellwether
by Connie Willis. I've read it before, but good books are like a known refuge and secret redoubt: always ready to furnish shelter and relief when enemies press the gates.