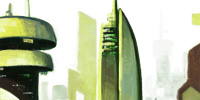 This image captures the city in its ferroflex era. As you can no doubt discern, I'm still figuring out how to handle cityscapes effectively and have started to differentiate these ages by monochromatic tone.
Consider this a series within the series — an attempt to flesh out the world a little.
I finished up The Last Siege in the evening, then dove back in to Mass Effect: Revelation by Drew Karpyshyn. The cliché, cheesy plotline of the latter novel is a real struggle — in spite of my admiration for the video game bearing the same title.
I'll have to find something more compelling — possibly Jonathan Stroud's Heroes of the Valley.