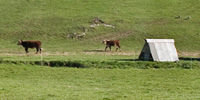 Apologies for the continued dearth of regular sketches — other things have again taken precedence for a short time.
Lately, my reading has focused on The Hot Shoe Diaries: Big Light from Small Flashes by Joe McNally. This book is totally dedicated to the subject of best employing small strobe units (such as the Canon 580EX II, Nikon SB-900, etc) to control lighting. I've already implemented some of the author's suggestions. For example, I recently switched exclusively to using second-curtain — AKA rear curtain — flash sync, since this allows the camera to expose for the scene first, then pop the flash to render in foreground details.
I can't wait to employ some of the other tips in the field. If nothing else, hauling around both strobe and camera will give me a better workout.