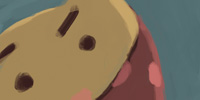 This week's New Yorker cover was painted by artist Jorge Colombo entirely using that spiffy iPhone/iPod Touch app named Brushes which I wrote about in early January.
Steve Sprang — the developer of Brushes — also put together a neat companion application named Brushes Viewer which allows the replay of the process of painting.
Even though I'm still not used to painting on an iPod with my knobbly, misshapen fingers, I put together a little demonstration of this amazing software just for you. Take a look.