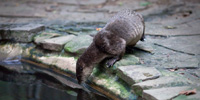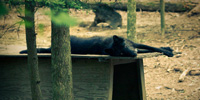 Working my way through Iron Sunrise by Charles Stross now. What can I say? I have a fascination for solid techno-Lovecraftian science fiction… at which Stross excels. Additionally, he taught me a terrific new word: bampot.
The photographs above are the result of the same photo hike which produced Curious Wolf and I present these images as evidence that most animals basically do nothing all day long.
That may explain why — excepting otters — one rarely sees animals which qualify as bampots.