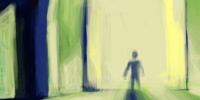 Posting today under the influence of rather severe and demoralizing allergies.
I can't explain why, but such moments strongly lend themselves to the confabulation of distinct, evocative images. When I'm sick or depleted, this one always comes to the fore: a figure standing at the entrance to a dark tunnel. It speaks of mortality, a search for sanctuary, the influence of unseen rivers, of tunnels and passages into darkness.
This image originally came to me as I descended into the grasp of a terrible flu last February. At the time, I was reading Haruki Murakami's The Wind-Up Bird Chronicle. (It is a terrifying book. Murakami — and his English translators — possess a gift for exactly relaying the more frightening vistas dormant within the human subconscious.)
In any case, there is a passage in the book in which a character describes a memory from her childhood. In the memory, she is playing with some other children beside a stream near a field. It has just rained. The stream is swollen with the rain. The other children are pulling her along in a small boat when they somehow lose their grasp. In a moment, she is swept away from them toward the mouth of a culvert. An entrance into the underworld, a mouth into the earth, a portal to the unknown.
(Apologies for these undeveloped thoughts — I'm not completely up to par right now. What imagery — if any — do you associate with your varied states of being?)