Feb 8, '10 3:50 AM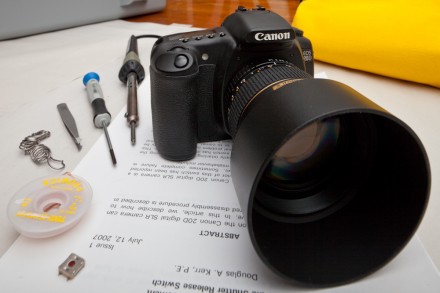 About a year ago, the shutter release switch on my Canon 20D began to lose sensitivity. This resulted in more than a few blurry pictures — and shutter misfires — as I repeatedly tapped the switch in an effort to trigger the shutter.
A malfunctioning shutter release switch is a fairly common problem with the Canon 20D, 30D, and 40D digital SLRs. The problem may be resolved in one of two ways: send the camera to Canon for repair or boldly repair it yourself.
I chose the latter option, of course.
Since the repair process had the potential to produce a tragically camera-shaped paperweight, I availed myself of Douglas A. Kerr's comprehensive article on the replacement of the Canon 20D shutter release switch (PDF).
(Sidenote: Mr. Kerr writes and curates a great collection of articles on the nuances of "optics, photography, and imaging" — among other subjects — at his website.)
I obtained a replacement shutter release switch (Canon part number CH9-0233-000) from USCamera.com a few days ago. Beyond that diminutive component, the only required tools are a soldering iron, solder, desoldering braid, tweezers, and a Philips No. 00 screwdriver.
Disassembly of the camera body was surprisingly easy.
Observe the delectable sweetmeats found within a digital SLR.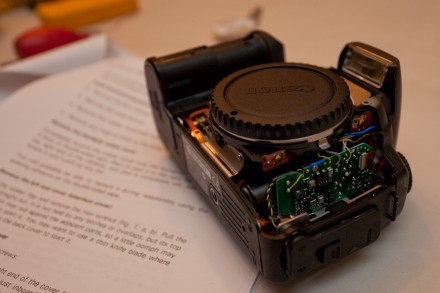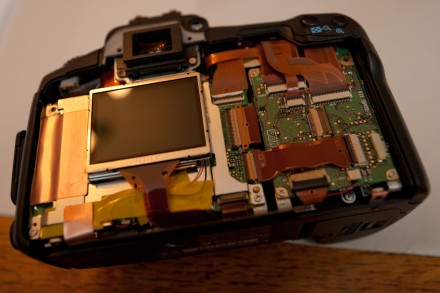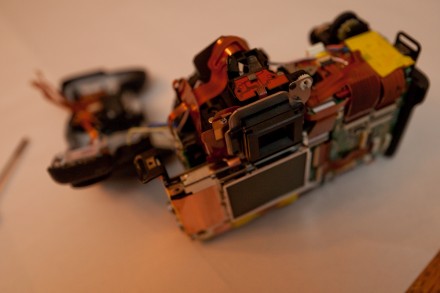 The desoldering of the old release switch and soldering of the new release switch were the trickiest phases of the operation: I was mortally afraid of melting a ribbon cable with the soldering iron. Things went smoothly, however. No second-degree burns.
I'm pleased to report that — after reassembling the body and reinstalling the battery — the camera is responding perfectly. I can't wait to get it back into the field.
This post was updated on 2011-03-23 to correct the links to Douglas A. Kerr's website. (The domain changed from doug.kerr.home.att.net to dougkerr.net.)