May 6, '09 1:50 PM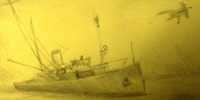 ZRS-5 takes on provisions and fuel from an unidentified Lapwing-class destroyer as an F9C flies past.
Provisioning operations of this type were inherently dangerous due to the tendency of large airships to 'weathervane' with the wind. This could be offset to some degree by deploying tethered, sinkable sea anchors around the periphery of the ship prior to beginning resupply operations or anchoring the ship's nose to a masted barge.
May 5, '09 12:45 PM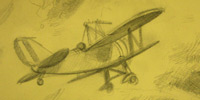 An F9C on routine patrol falls away from ZRS-5 somewhere over the Indian Ocean.
(One might reasonably ask what ZRS-5 was doing over the Indian Ocean, of course. Answers are forthcoming.)
May 4, '09 11:24 PM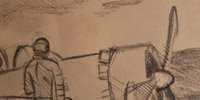 I don't know how or when, but I know I'm going to spend a lot of time hanging out at Antique Airfield someday. Just look at this Caudron Racer! And this Stearman! Or this Curtis Jenny!
Apr 20, '09 1:45 PM
All buffeting ceased when they emerged from the clouds over mountains worn and low and green. Tense squall warnings were replaced by indistinct shouts of elation as the lookouts reported barns, fields, and other structures.
Exhausted, he watched a chart marker roll into the gutter at the edge of his navigation table. A 45 degree turn to port. Time to take another drift sounding.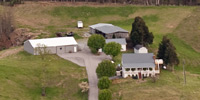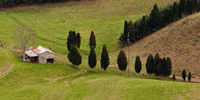 Outside, clipped onto the harness and lines, he was briefly overwhelmed by the memory of a meadow near his grandfather's house. The memory of sitting within a secret fold in the Earth there, playing in the peculiar way of an aeronaut. His fingers traced tiny roads in the damp sand. They followed the outline of a clump of moss, a row of twigs raised like barren trees.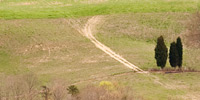 Elsewhere, he heard the rhythm of the wind across the grasses, the rapid beat of the loose barn boards which always spoke of storms.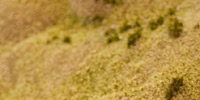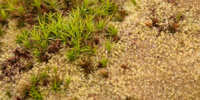 Apr 13, '09 12:00 PM
They found it in the depths of the wetlands there — gathering all the light, tumorous, bearded in still-green moss.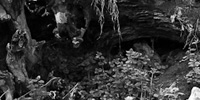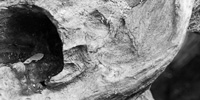 The disturbances were first noticed almost a thousand years earlier. Marginalia inscribed by some nameless, freezing monk upon that famous map: "Site 5: Halted water, prismatic light; instruments inaccurate — "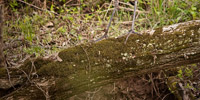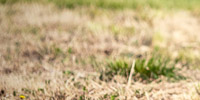 The passage concluded: "Interference patterns evident in behavior of fauna — 2-5-1933 Akron." Two hyphens, a date, a name. "Low-theta glyphs" according to the literature. Unimportant.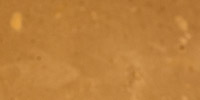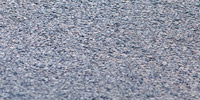 In the face of that ageless, dark concretion, significance itself has none.