May 6, '09 1:50 PM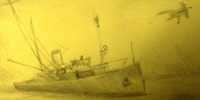 ZRS-5 takes on provisions and fuel from an unidentified Lapwing-class destroyer as an F9C flies past.
Provisioning operations of this type were inherently dangerous due to the tendency of large airships to 'weathervane' with the wind. This could be offset to some degree by deploying tethered, sinkable sea anchors around the periphery of the ship prior to beginning resupply operations or anchoring the ship's nose to a masted barge.
May 5, '09 12:45 PM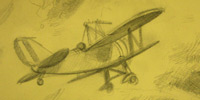 An F9C on routine patrol falls away from ZRS-5 somewhere over the Indian Ocean.
(One might reasonably ask what ZRS-5 was doing over the Indian Ocean, of course. Answers are forthcoming.)
May 4, '09 11:24 PM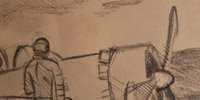 I don't know how or when, but I know I'm going to spend a lot of time hanging out at Antique Airfield someday. Just look at this Caudron Racer! And this Stearman! Or this Curtis Jenny!
Feb 19, '09 8:00 AM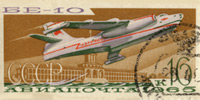 The various Soviet aircraft depicted in these stamps: Antonov An-22 (the world's largest production aircraft until the advent of the C-5 Galaxy), Beriev Be-10 (jet-powered flying boat and patrol bomber), Antonov An-24, the Mil Mi-10 (a flying crane helicopter), and the Tupolev Tu-134.
Nov 21, '08 12:29 AM
Stand clear! Calliope is taking a nap.
Calliope's Book is a story about a little white cat who lives in a forested world of rusting mechanical chipmunks and shining metal wings.
What's particularly special about the image?
1. For a digital image, it's gigantic: 18 x 24 inches @ 600dpi.
2. Like the previous Speed + Time poster, this image contains parasignals.
This poster is now available in my deviantArt store.
Nov 19, '08 4:53 AM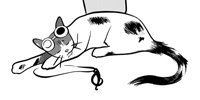 Moving closer to completion on this poster. I drastically simplified the center of the image over what was shown in the original. Simplification goes well with resting, no? I also redrew most of the line work to bring it up to spec.