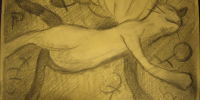 "She flew endlessly over a spoken sea of secret language…"
This is the kind of thing that occurs when you jump into a flying cube. Let that be a lesson to you, Calliope.
Meanwhile, I am struggling to decide whether I want to purchase a new Canon Pixma Pro 9000… or some other printer which is fairly durable, produces high-quality output, and doesn't suffer from clogging issues. According to the Amazon reviews, the only major downside to the Pro 9000 are Canon's typically half-baked drivers — which apparently prevent it from handling custom paper sizes, provide misleading ink level information, and disallow borderless output on some types of paper.