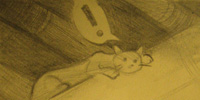 "The cube seemed to float ever closer…"
While sorting awful attic books the other day, I kept myself sane by listening to Vernor Vinge's Fast Times at Fairmont High. This neat little story takes place in the same setting and parallel to the events in Rainbow's End. On reflection, it may even reveal the cause of some of the events in the latter novel.
If you'd like to sample some of Vinge's ideas, I recommend that you listen to the speech he gave last year as part of The Long Now Foundation's Seminars About Long-term Thinking. The speech centers on the concept of 'failed singularities' but goes into some of the details of the afore-mentioned books, as well. As usual for Vinge, the ideas are gargantuan and wonderfully compelling.
A recording is available in MP3 or Ogg Vorbis format.