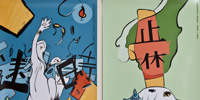 This is how the "Calliope's Book: Speed + Time" and "Calliope's Book: Stop + Rest" posters look when printed.
The color, print, and paper quality are terrific, deviantART did a nice job packaging them for shipping, and you'll note that Calliope now possesses all of her many, many knees.
They work well together, don't you think?
(I'm seriously considering ordering some 20″ x 30″ versions — just to see how they'd look. At that scale, the print quality should still be above 300dpi.)