The elevator came to a rattling, screeching, grinding halt at the bottom of its shaft. Rust spalled off the bottom of the car into the machine spaces below. A drizzle of neglect. Further evidence of dubious reliability.
Weeks before, she and Gred had pulled the maintenance logs for old Ward III — the station's original communications ward. The last entry — from 100 years past — consisted of a sullen scribble: "the lift works." That made sense. Even without the depopulation phase of The Asura to consider, active maintenance of interstellar communications was hardly a priority for anyone. The high-bands had been down for centuries. No one was talking out there. Would there even be anyone left who knew how?
The safety gate opened grudgingly before her, singing a high wail.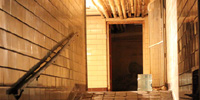 The elevator receiving lobby was clearly in an advanced stage of decay. The air smelled of dust and mildew. The walls were lined with a motley collection of discarded furniture — even a gurney. It was cold, but the ward still had power. At the end of the haphazardly tiled passages nearby, she could see the distinctive warm glow of a hot lamp. Overhead, broken ullage pipes seeped a foul-smelling liquid. The residue of more difficult times.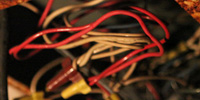 The communications room was easy to find. In the old days, everything had been labeled with a neat physical sign. "COM1", in this case. The former heart of station activity was in a truly sad state: wiring conduits spilling their contents in unmanaged tangles, rust consuming the equipment racks, scorch marks on the walls where transformers silently flamed out decades before.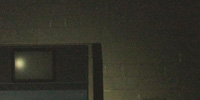 Nonetheless, she could discern the dim glow of standby lights on several of the old consoles.
One of these was flickering. On, off. On, off. Beneath, a faded label read "Bell Repeater One". Idly, she flipped the associated toggle. Then, with the faint hiss and crawl of static, a voice attenuated by uncertainty, great distance, and failing electronics spoke out.
"…Teller Indigo Rival. Can anyone hear me? If you can receive this, please respond."